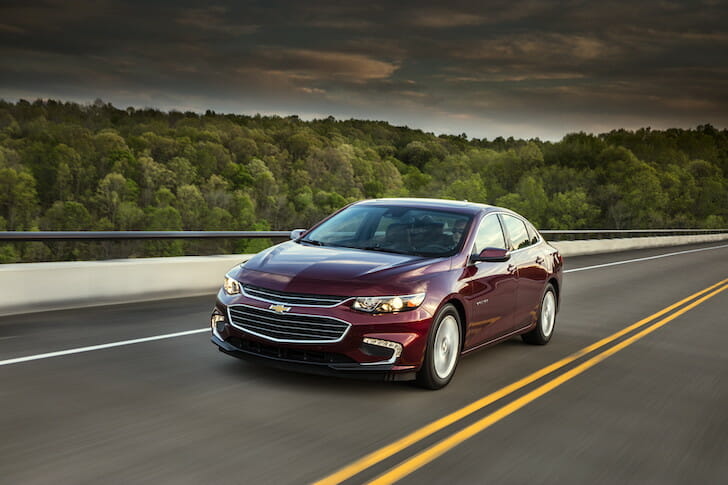 ?
The kind of car you purchase is greatly influenced by where you live and how frequently you drive in the city. For the majority of city drivers, wide pickup trucks and SUVs are out due to narrow streets, stop-and-go traffic, and limited parking space. For some, purchasing a new car is out of the question (out of the budget), so we will be looking at
used cars in Hutto
.
All of the vehicles on this list are compact, have powerful engines, and are loaded with features. Older city cars were uncomfortable, had poor engines, and had bumpy rides. With contemporary city cars, such is not the case.
Chevrolet Volt
The 2017 Chevy Volt is a good option if you and your family are interested in an electric vehicle, which is one of the fastest-growing segments of the auto market. The Volt is perfect for city driving and is primed to exceed any and all expectations for the fully electric category.

City life requires a car that is dependable, and the Volt gives that thanks to its 420-mile range on a single charge and 53 pure electric miles, according to the EPA.

Modern safety features make the Volt and the majority of Chevy used cars in Hutto incredibly safe. Automatic Crash Response, Lane Keep Assist, and a Rear Cross Traffic Alert are just a few of the modern conveniences that may make every journey your adolescent makes safe. For the safety of young drivers in San Antonio, the 2017 Volt's Teen Driver Technology enables you to be present even if you're not.
Chevrolet Cruze
Diversity is important when choosing an automobile for city driving, and the 2017 Cruze is the most diverse Chevy model. Both the Cruze sedan and hatchback are fantastic choices for families. Along with enticing features like 4G LTE hotspot functionality, Apple CarPlay, and Android Auto, the Cruze boasts Teen Driver Technology for the younger drivers in the house.

In case you are purchasing the Cruze for your teen who just got their license to drive in the city, the Cruze has a lot of favorable features. It will always ensure that teens drive defensively thanks to Chevrolet's Teen Driver Technology system. Selecting a vehicle with Teen Driver Technology, such as the Cruze, will allow you to set customized alerts, limit the vehicle's peak speed to 85 MPH, manage the volume of the audio system, and get frequent driving reports, all of which will help you guarantee that your teen continues to drive safely.

The Cruze is a reliable and affordable vehicle that gets high gas mileage and has a variety of safety features. If you're buying used, you might go with a Cruze from the 2016 model year for a redesigned car with more cutting-edge technology, but you don't have to do that to benefit from the Cruze's impressive fuel efficiency and safety ratings, which date all the way back to the 2011 model year.
From a selection of used cars in Hutto, customers love the Chevy Cruze's roomy interior and large trunk, which are other highly praised features. Completely automated headlamps along with keyless remote entry are a part of the package too. In a vehicle that is now almost five years old and available at such a reasonable price, these options are fairly decent. The appearance is sleek and fashionable as well, making it the perfect family car or the first car you'd like to give your youngster in the future. The automobile offers excellent bang for the buck, and
vehicle maintenance
should be inexpensive as well.
One of the most common kinds of automobiles that are suitable for city driving is a mid-size sedan, and the 2016 or older Chevy Malibu is one of the best models in this class. Along with adolescent driver technology, the Malibu boasts a lot of comforts that you and your young driver will both appreciate.

For the 2016 Malibu, Chevrolet completely redesigned the sedan and included a ton of new safety measures. All the standard suspects are available, including a front collision warning with automated braking and a side blind-zone system with a rear cross-traffic alert. Additionally, the 2016 Malibu earned an IIHS Top Safety Pick+ ranking and a five-star NHTSA rating. These factors guarantee the safety of loved ones especially for those considering to buy a Malibu, especially given that it is amongst the best used cars in Hutto.

Potential buyers can also take advantage of a load of technological amenities on-board the Malibu, for instance, the Wi-Fi hotspot feature to stay connected. The Malibu offers parents peace of mind with a low starting price and active safety features like lane keep assist and front automatic braking. The Malibu will reportedly get 36 MPG on the highway, according to the EPA.
Contact Us to See Which Vehicles are Available in Hutto
Urban driving comes with a number of unique challenges whether it is for experienced or fresh drivers. Chevrolet is a brand that manufactures automobiles that make it easier, affordable and convenient to cruise around the city with a vehicle that you can enjoy. They are undoubtedly some of the best used cars in Hutto.